We're constantly sharing our own top apps, tips and tools, but with the international mobile journalism conference (MoJoCon) just around the corner, we're sharing top apps, tools and tips from 11 of our favorite mobile journalists. Here are the best!
Andy Butler
Favorite App
"Snapseed is my go-to photo editing app," Andy said. His favorite features include tune image, tonal contrast for improved clarity and the vintage filter.
Top Tip
"Editing is to enhance a photo, not hide flaws in a bad one."
Bernhard Lill
@dermedientyp
Favorite Apps
JamSnap for iOS and Foundbite for Android. Both JamSnap and Foundbite allow you to add sounds to still photos to capture and share a moment.
Björn Staschen
@BjoernSta
Favorite Apps
Björn recommends either FilmicPro or CinemaFV5 for shooting videos, and either Pinnacle, PowerDirector or KineMaster for editing. He also likes Hyperlapse for timelapse videos.
Judd Slivka
@juddslivka
Favorite App
ChartMakerPro allows you to input data to generate pie charts, line graphs, scatter plots and more to print, save to camera roll and share.
Top Tips
Be sure to hold your phone horizontally when you're shooting videos—and put your phone in airplane mode to avoid interruptions.
Marc Blank-Settle
@MarcSettle
Favorite Apps
FilmicPro to shoot video, Ferrite to collect and edit audio, and ProCamera8 to take photos.
Top Tools
Marc recommends buying an external mic. "iRig and Røde make decent mics," he said, but "it all depends what sound you want to capture and how much you want to spend!" He also recommends buying something to stabilize your device, like a tripod or monopod.
Top Tip
Practice!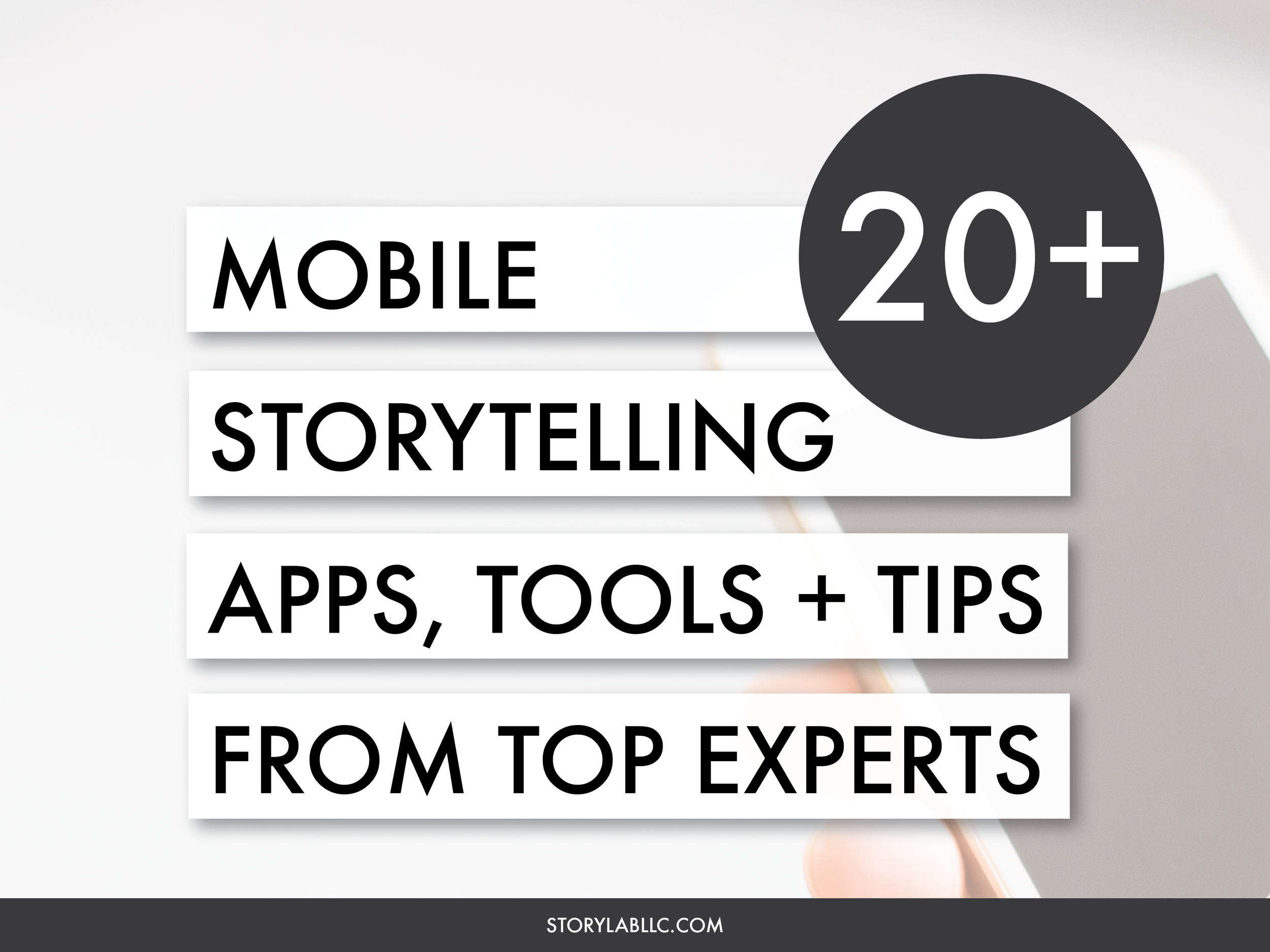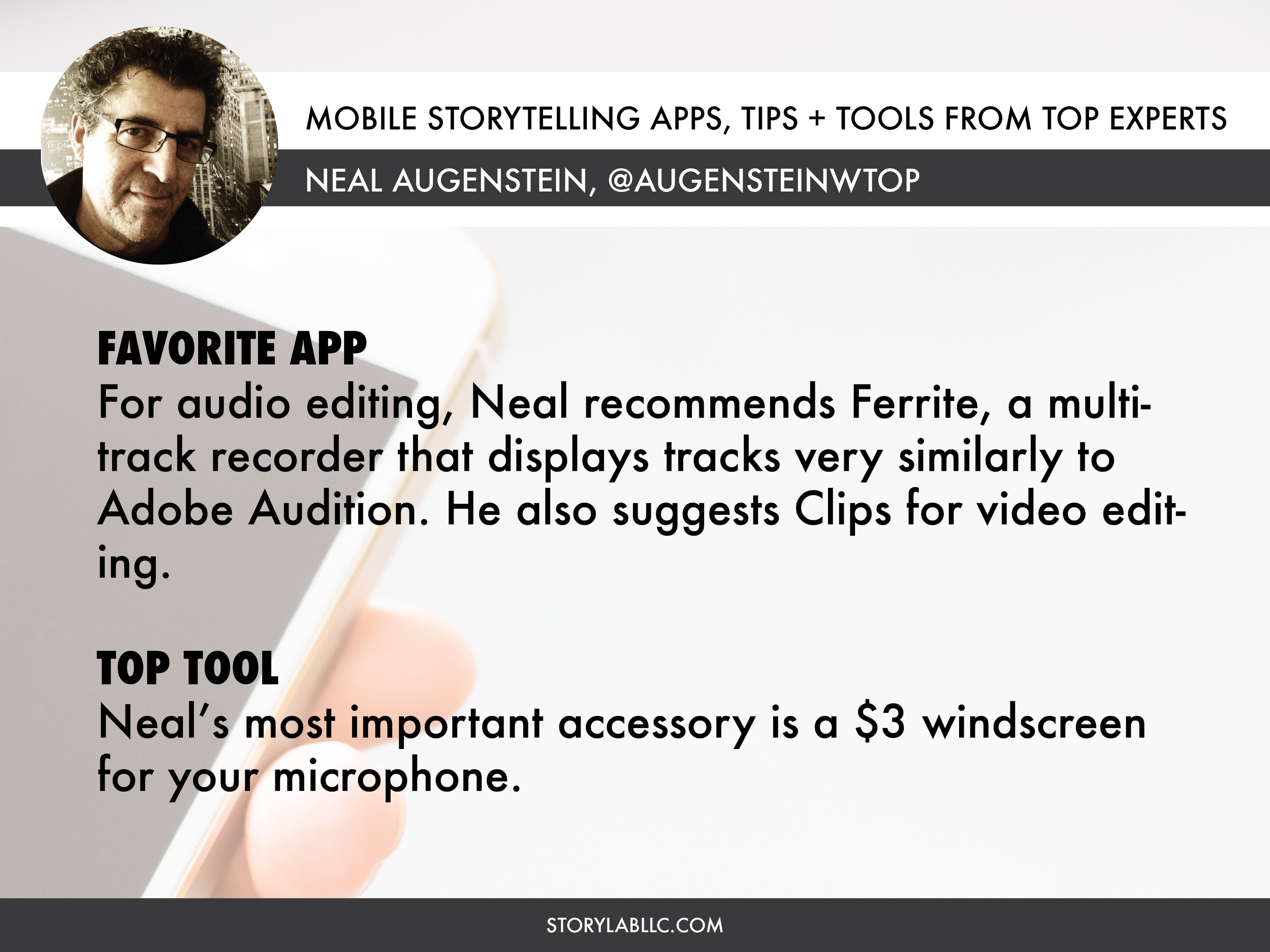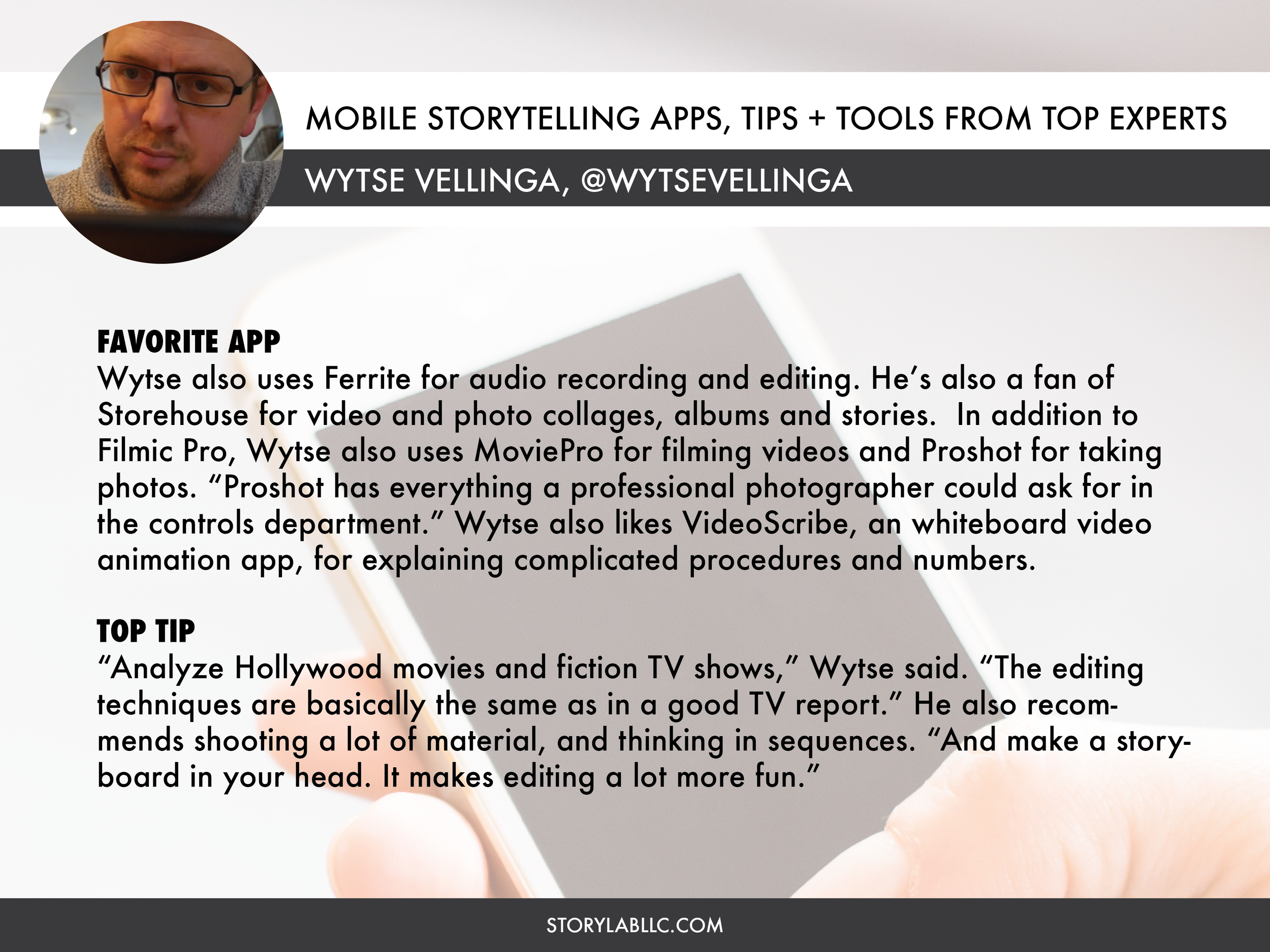 Neal Augenstein
@AugensteinWTOP
Favorite Apps
For audio editing, Neal recommends Ferrite, a multitrack recorder that displays tracks very similarly to Adobe Audition. He also suggests Clips for video editing.
Top Tools
Neal's most important accessory is a $3 windscreen for your microphone.
Nick Garnett
@nicholasgarnett
Favorite Apps
Ferrite for recording and editing audio, and either Pinnacle or iMovie for video editing.
Top Tips
"Sort out your sound," Nick said. "Get a cheap personal mic and use a second (old) iPhone to record it on," so your source can put the second phone in their pocket during the interview. Then, sync the high-quality audio with the video. That's the $40 solution, Nick said, but another option is to get the Røde VideoMic Me, a mini shotgun mic.
Philip Bromwell
@philipbromwell
Favorite Apps
FilmicPro for filming video, Camera+ for taking photos, iMovie for editing videos and Adobe Voice for social video. Adobe Voice allows you to make simple animated videos with narration and music.
He also likes PicPlayPost for combining videos and stills into a collage, Diptic for adding text to photo collages, Gravie for adding text and graphics to video and Replay for unique video filters and effects.
Although Philip recommends a lot of apps, he said all apps should be used to polish your work—doing simple things (like taking good photos and videos from the start) is also key.
Top Tips
Having a good smartphone and a good eye are key. Philip also recommends taking a lot of photos, getting plenty of video close ups and a variety of shots, and be willing to practice. "[Another newbie mistake is] forgetting that social video has to work on social," Philip said.
Sandra Sperber
@sperbers
Favorite Apps
FilmicPro for shooting video, iMovie for editing video, Video Compressor to save space on your device and WeTransfer to share up to 10 GB of photos and videos to friends' emails (no sign-up required). "iMovie is a good tool for basic editing," Sandra said. "It lacks a few functions, like audio transmissions but it's great for a quick rough cut."
Top Tips
Sandra's top tip is to keep it simple. "For beginners, the variety of apps and gadgets can be confusing. Don't spend too much time on picking your tools," Sandra said. She suggests experimenting with your phone's basic camera app, and then add a selfie stick or tripod and a mic, even if it's just your iPhone headset. "You'll be surprised what's possible with a simple set up, and then dig deeper into the App Store."
SmartFilming
@smartfilming
Favorite Apps
FilmicPro for filming videos, but if your Android device won't run Filmic, try Cinema FV-5. He also recommends iMovie for iPad, because of the ability to "expand audio" to help with audio transitions. For video editing, he recommends KineMaster (for Android). "It's even more powerful than iMovie, but just as easy to use." He also uses FeemWifi for file transfers and Storymaker as a learning tool.
Top Tip
"Don't let anybody tell you that you need an iPhone. Android and Windows phones work as well."
Wytse Vellinga
@wytseVellinga
Favorite Apps
Wytse uses Ferrite for audio recording and editing. He's also a fan of Storehouse for video and photo collages, albums and stories. In addition to FilmicPro, Wytse also uses MoviePro for filming videos and Proshot for taking photos. "Proshot has everything a professional photographer could ask for in the controls department." Wytse also likes VideoScribe, a whiteboard video animation app, for explaining complicated procedures and numbers.
Top Tips
"Analyze Hollywood movies and fiction TV shows," Wytse said. "The editing techniques are basically the same as in a good TV report." He also recommends shooting a lot of material, and thinking in sequences. "And make a storyboard in your head. It makes editing a lot more fun."
About The Author
Hey, I'm Sarah!
I love teaching small businesses and solopreneurs to create better content and incorporate cool tech and tools into their content marketing machine so they can get better results (more traffic, more customers, more money) in less time. After all, isn't that what content marketing is for?
Connect with me on Twitter, Instagram, Pinterest and LinkedIn.